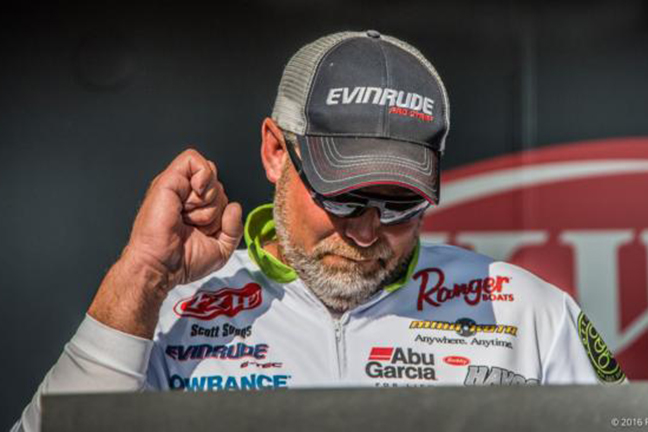 Photo: FLW - Day 1: 5, 21-05 Much like Canterbury, Suggs caught the lion's share of his weight before 9 a.m. He headed back toward Florence around 10:45 when the lake started to get bumpy. He caught a 4 1/2-pounder not far from the ramp to account for a key upgrade later in the day.
"It was just one of those deals where everything went perfect," he said. "There was a little wind where I started and I caught three between 4 and 5 (pounds) in succession. That gives you the momentum and ability to settle down."
He picked off another good fish at each of his next two spots.
"I ran around to some other stuff that was wind-protected because I wanted to check them in case I needed it tomorrow," he added.
The shad-spawn bite was crucial for him, but he fears it's a diminishing pattern.
"I think they're leaving me every day," he said. "When we got here, it was stupid (good) and it's gotten worse each day. I think they had done a lot of spawning before we got here and while we've been here and we're seeing the tail end of it wrapping up.
"I'm going to find out. I have a long day tomorrow. I'm going to chunk and wind." Read more