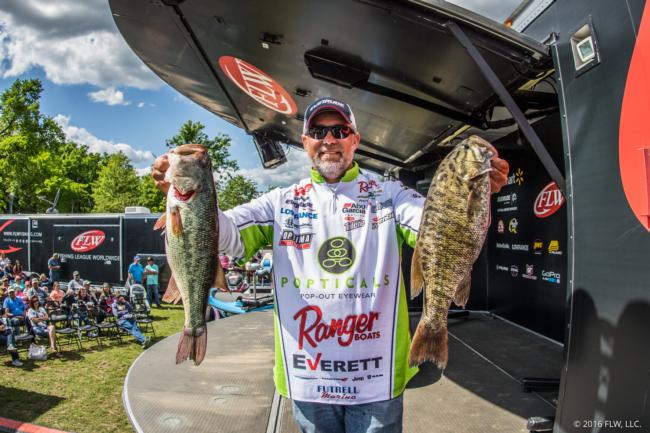 >> Day 3: 5, 10-10 (14, 47-01) The shad spawn has been crucial for Suggs all week and it was again today, but it happened on different spots from where he'd been catching fish.
"I was in a struggle today," he said. "I wound up going back trying to find the shad spawn and I found a huge one. I had some blow-ups, but only caught one keeper. I moved to another location and found another shad spawn and caught three there."
He has one deep spot that he started on today and he plans to start there on Sunday because of the quality that he's caught there.
"I feel like I have to start there because I've weighed in three around 5 and a 6 off of it," he said. "It's just a high shell bed on the river ledge and the shad are spawning on it. They weren't there today or Friday so that spot may be done, but I have to go see.
"I didn't have a great day today, but I am fishing tomorrow. They didn't pull any water and it really stunk for me."
Still, he's happy to be fishing the final day for the first time since Beaver Lake in 2013.
"I had some days in practice that I felt decent about and some I felt terrible about," he said. "To catch what I've caught so far, it's been a shot in the arm. I'm pleased." Read more