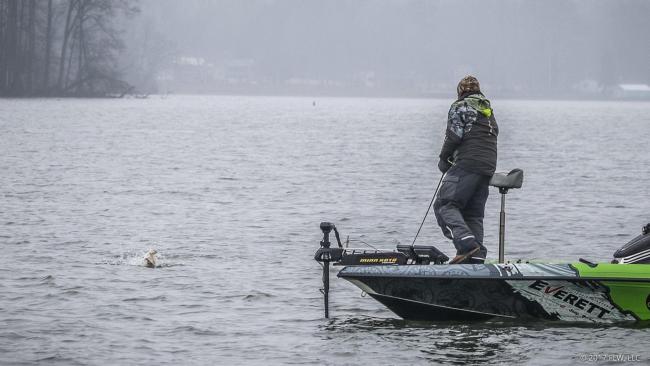 > Day 3: 5, 17-14 (15, 51-11) In Suggs' estimation, had the cold front not come through this week, the weights would've been trending upward rather than leveling off. Either way, he's capitalized on the sunny conditions the last two days to climb into the top 5.
"Going into the tournament, I thought it'd be better than it has been," he said. "As soon as that front came in, it got worse. That front has backed them off and spread them out."
He's focused exclusively on shallow grass flats with a lipless crankbait and has benefitted from the sun helping to position the fish in areas that are easier to target.
"We're going back to clouds tomorrow and that's the only thing that scares me," he said. "I'm having to cover a lot of water. I have about eight places I'm rotating through. I can rotate through them once and not get bit and then go through them again and get bit at every stop."
After boating six keepers each of the first two days, he totaled nine today.
"I'm around the kind of quality that will get me 16 or 17 pounds," he said, noting his co-angler on Friday caught 17 pounds. "I'm around a lot of quality fish. I'm not saying 25 (pounds) is out of the question, but I'm going to need that to have a shot at this and hope there's a stumble." Read more