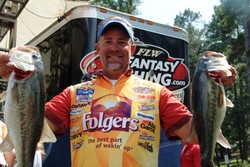 After winning the 2007 Forrest Wood Cup on Lake Ouachita and becoming the first person to ever win a $1 million payday at a single bass-fishing event, it's not entirely surprising that Scott Suggs of Bryant, Ark., is once again in the running for a tournament title on his home lake.
Using a total catch of 17 pounds, 11 ounces, Suggs continued his assault on the Lake Ouachita leaderboard, ending the first day of competition in third place overall.
"It's always fun to come to Ouachita and to come home again," said Suggs. "We lost about an hour and a half of fishing this morning (due to the fog delay) and that usually makes everyone's bag look bad. But it worked out for me today."
However, it wasn't until about midday that Suggs' mastery of Lake Ouachita became apparent.
Complete Story