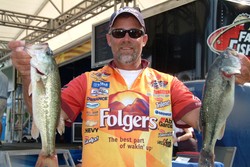 Although it looked as if Scott Suggs was going to win the tournament trophy going away after two days of stellar fishing, the native of Bryant, Ark., suffered a setback in today's competition after only managing to bring 10 pounds, 13 ounces to the scales at Friday's weigh-in.
"I really didn't stumble today," said Suggs. "I got six keeper bites and lost a really good fish this morning. I fished my guts out today. But it just goes to show you how humbling this sport can be. At least I'll have another chance to win this tomorrow. And you can't ask for more than that."
Per his usual strategy, Suggs targeted bass on standing timber in an effort to get an early limit. However, today he fell one fish short during the morning hours.
"I think that messed with my mind a little bit."
However, when he proceeded to execute part two of his plan, throwing a crankbait on deep brush piles – a strategy that had proven successful the last two days – that's when the wheels started to come off the previously unstoppable Suggs train.
Complete Story