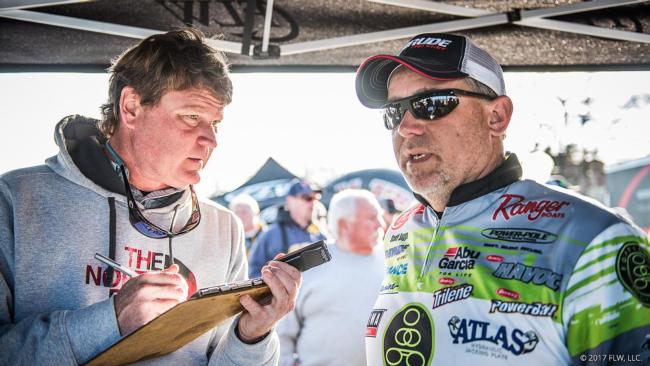 > Day 4: 5, 16-14 (20, 68-09) Since the 2017 schedule was released last summer, Suggs had been wondering how the seven-event lineup would impact the points-per-tournament average needed to qualify for the Forrest Wood Cup.
After locking up his eighth career FLW Tour top-5 finish, he can set his mind back on a six-event schedule.
"With the seven events and not knowing how the points will shake out, I'm back on a six-event deal now and that's an awesome feeling," he said. "I know in six tournaments about what I'll need to make the Cup. These were bonus points for me.
"Anytime you can get a top-10 finish, if you're not excited, you don't need to be out here. I'm tickled to death."
Suggs continued to mine eelgrass flats today with a lipless crankbait, focusing on both inside and outside edges depending on the weather and wind.
"This morning, I jumped out and went to catching them, but then the wind got up and it when it did, it ripped all of the eelgrass up and destroyed some of my places," he said. "I couldn't get my bait down to them so I wish I would've had some cleaner areas to go to with a south wind."
He caught more keepers (12) today than he had the other three days, but he didn't feel he was around the big fish he needed to make a significant charge at the lead.
"I don't think the area I was in was loaded with big fish yet," he said. "There are still a lot of fish deep. I wasn't on the big girls; I was on the 17-pound average fish. If I had do something over again, I would've spent more time around some of the bridges for something to run to on a day like today when you don't have all the boats to fight with." Read more