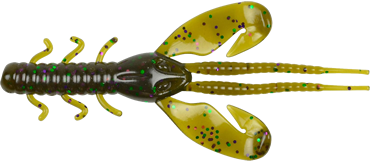 Craw baits have become quite popular with today's top bass anglers – pros and amateurs alike. The new 4-inch Berkley Havoc Rocket Craw, designed by former Forrest Wood Cup champion Scott Suggs, delivers unparalleled action when it comes to speed-based craw baits.
It's equipped with high-action pinchers that stir up the water and ground when worked along the bottom to imitate a fleeing crawfish. With its realistic tentacles, it's an ideal trailer on a jig for pitching under docks or into heavy cover. Rig it Texas-style on a 3/0 wide-gap hook and drag it along the bottom or through timber.
The big, elongated design of the Rocket Craw gives it a profile that bass can easily locate. It doesn't matter if it's in the thickest cover or darkest waters – bass will inhale this bait!

"If you want a bait that looks and acts like a scared craw, throw the Rocket Craw," Suggs said. "Built for speed and stirring up trouble around shallow grass and wood, the Rocket Craw is the best speed craw ever built. The super high-action claws move a ton of water and will get the attention of any bass close by."

The bait has already made an impact at the highest level of the sport. Ott DeFoe used it to entice spawning fish in the Bassmaster Classic at the Red River, where he finished 5th; Bobby Lane threw it en route to an 18th-place finish at the Okeechobee Bassmaster Elite Series; and 5th-place finisher Skeet Reese caught all of his fish on it over the final 3 days of the Elite event at the St. Johns River.

The Rocket Craw is available in 10 colors – Bama bug, black/blue fleck, black/red fleck, breen-clear chartreuse, green-pumpkin, green-pumpkin/purple fleck, junebug, pearl white, perfection green fleck and shady watermelon candy. A package of eight retails for $3.49.


Some More Rocket Craw Headlines
David Dudley's 3rd Place Finish on the Potomac
http://bassfan.com/news_article.asp?id=4272
Ott Defoe's 5th Place Finish in the Bassmaster Classic
http://bassfan.com/news_article.asp?id=4188
Bobby Lane's 5th Place Finish on Okeechobee
http://bassfan.com/news_article.asp?id=4211
Skeet Reese's 5th Place Finish on St. John's River
http://bassfan.com/news_article.asp?id=4208