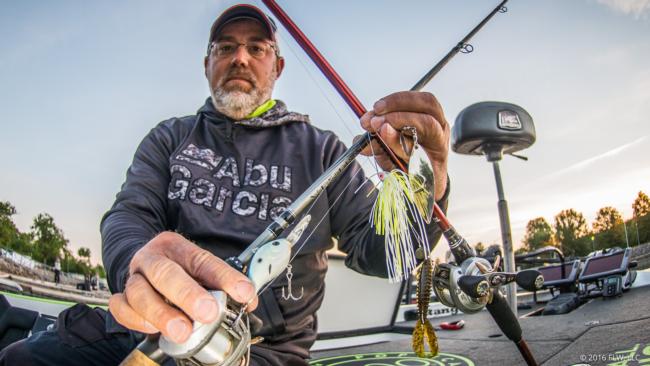 3. Scott Suggs carried a few weapons to target both the shad spawn and deeper fish. He rigged a swing-head jig (7/16, 5/8 or 3/4 ounce, depending on depth) with a Zoom Z Craw, Zoom Magnum Trick Worm or Gene Larew Biffle Bug. A Berkley Digger crankbait also produced, as did a War Eagle spinnerbait. A 7-foot, 6-inch, heavy Abu Garcia Veracity rod with an Abu Garcia Revo Premier spooled with 15-pound-test Berkley Trilene 100% Fluorocarbon was his go-to setup.
Shad spawn delivers for Suggs - Scott Suggs of Alexander, Ark., spent the week bouncing back and forth between a shad spawn in grass and shell bars out on the river channel to amass a total of 65 pounds, 1-ounce.
Like others mentioned, Suggs says the offshore bites were very sporadic and unpredictable. Given that, he spent his mornings fishing a shad spawn in grass along a river bar in 6 to 8 feet of water. On the first day he scored big on the shad spawn, boating 21 pounds, 5 ounces. But as the tournament wore on, his shad spawn area just kicked out keepers and he had to drag along shell bars for upgrades.
When targeting the shad spawn Suggs used a ¾-ounce War Eagle Spinnerbait, a Zoom Swimmer swimbait threaded on a ½-ounce War Eagle swimbait head and a Keitech 4.8 Swing Impact FAT also on a ½-ounce swimbait head.
To drag along the shell bars, Suggs used either a Zoom Magnum Trick Worm or a Zoom Z-Craw threaded on a ¾-ounce Gene Larew Biffle HardHead.
"I used the fixed Hard Head, not the hinged one because I wanted the bait to kick up when it hit the shells," Suggs says. "I also caught some on a new Berkley Dredger deep-diving crankbait on the shell bars, too."